| | |
| --- | --- |
| | Popular Places |
The Peak
Victoria Peak
Known as Hong Kong's most conspicuous landmark, The Peak is also the residential yearning of most of the population. Located on Hong Kong Island, The Peak was never as popular as it is today. During the first six years of Hong Kong's history, hardly anybody traveled up there. Only in 1888, when the Peak Tramway was opened, was the area atop the hill acknowledged as The Peak.
The Peak Tram, which runs from 5:40 a.m. to 1 a.m., takes people up and down the hillside, and has been maintaining a safe reputation since its first operation. Only two cars are available to carry 72 passengers and one driver. These cars are pulled by 1,500m steel cables wound on drums.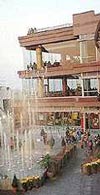 Residents of The Peak are comprised of gentries who often throw lavish dinner parties. Houses and flats are rented out to banks and corporate giants for their top executives at sky-high prices. The area's wilderness, contiguous with stately residents, continues to remain beautifully placid. It is one of the few areas of Hong Kong that feels like a tropical climate.
The Peak is a great place for walks, with its forests of bamboo and fern, lilliputian Chinese pines, hibiscus, and vines of phenomenal beauty. Visitors should start from Lugard Road, which begins just opposite the Peak Tram's upper terminus at 395m above sea level. Atop the hill, visitors will be greeted with some of the world's finest views that stretch all the way to China and Macau. The hike from Lugard Road to Harlech Road, which presents views of the harbor, takes about two hours to complete. Hikes from Green Island and Peng Chau to the north, and Lantau and Macau to the west will also take about the same time.
Across the tram terminus, the Peak Cafe offers a variety of cuisine in a distinctive neo-colonial atmosphere. Cafe Deco at the Peak Tower, however, offers better views. Redeveloped in 1997, Peak Tower is a tourist attraction that features the Ripley's Believe It or Not Museum and a ride through a dark tunnel called Rise of The Dragon. It is the first computer-operated entertainment ride in Hong Kong, and is an entertaining and educational train journey through evocative scenes of the territory's early history.
While descending from The Peak, it is worthwhile to stop at Barker Road and enjoy some of the finer views and footpaths through The Peak's mountainous forests. From Barker Road, the path joins the exclusive Plantation Road and May Road, where the tram negotiates one of the steepest passenger-vehicle gradients in the world.