| | |
| --- | --- |
| | Transport |
Domestic Travel
By air

There are about 8 domestic airlines serving Taiwan and its islands. The few airlines that provide regular domestic air services include China Airlines (CAL) and Far Eastern Air Transport.
All foreign passengers are required to produce their passports before boarding. Domestic flights in Taiwan are safeguarded by strict security measures.
Flight reservations within Taiwan can be made directly with the airline office or through a travel agent.
Special deluxe express buses provide excursion services to those who would like to explore other major towns in Taiwan. Buses are regularly scheduled to travel between Taipei and Kaohsiung daily.
Bookings should be made a day or two in advance. Tickets may be purchased from the bus companies themselves, although most hotels and local travel agencies can make the necessary arrangements for you.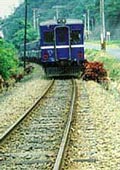 A different change from the normal flying or traveling by bus would be to take the train. A vast railroad network monitored by the Taiwan Railway Administration connects Taiwan's major cities and towns.
The trains are usually packed. Again, seat reservations should be made beforehand. Commuters are usually advised to book their tickets for first class travel a day or two in advance prior to departure. Round-trip tickets can be purchased at hand, but reservations for the return trip is made on arrival at your destination. The best way to get train tickets would be to go through a travel agent as getting tickets on your own would be time-consuming and difficult.
Three choices of trains are offered:
Fu Hsing (FH) - air-conditioned and limited express.
Chu Kuang (CK) - first class, air-conditioned, express.
Tsu Chiang (TC) - electrical multiple units and air-conditioned.
Taxis are excessive in Taiwan. Simply stand at the side of the curb, hail your arms, and a taxi will stop to welcome you within minutes.
All taxis use the meter system in calculating the fares. Time and distance are counted to determine the fare. However, there is an additional 20% charge if you take a taxi from 11 p.m. to 6 a.m. A taxi can be at your service for the entire day of your excursion and the hotel clerk can even arrange for a negotiated set fee.
In smaller towns, taxis have their own fixed rates. Some taxi drivers may overcharge, seeing that you are not local, so do ask around for the correct rates before getting into a taxi.
Self-driving is not recommended in Taiwan's cities as it is risky and could ruin your day. However, renting a car would be just the thing if you were interested in venturing down-island or along the northern coastline.
You will encounter countless panoramic views when driving down the North-South Expressway. From the expressway, there are exits into various cities and tourist sights, such as mountains, mineral spas, temples, and other equally picturesque tourist spots.
When renting a car, be sure to pick a renowned car rental company such as Avis, Budget, or Hertz. Do ensure that the car is in tip-top condition before renting it.
Limousines are available for those who do not have proper documents to drive a car. Chauffeurs, who also act as personal guides, drive these limousines. Cost varies depending on the type of car you choose. If requested, hotel clerks will be more than happy to make arrangements for a limousine.
Taiwan roads are properly maintained and provide adjacent access to Taiwan's scenic treasures. Nonetheless, it pays for you to be careful on the roads, no matter how good a driver you may be. Be weary of scooters and heavy vehicles on the road, look out for signs or instructions, and stop for directions when in doubt.
Bearing these in mind, you should have no problems adapting to the roads and antics of local drivers.