| | |
| --- | --- |
| | Food |
Northern Cuisine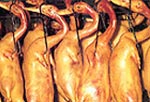 If you are a carefree individual who does not fret too much about cholesterol and unhealthy eating, then you should have a go at the delectable northern dishes that tend to be oily, enhanced with flavors of vinegar, soy sauce and garlic, but are less spicy.
Areas like Beijing, Tientsin, and Shangtung are perhaps the finest areas for northern cuisine. Noodles, pasta, steamed buns, baked breads, stuffed dumplings and pancakes made from wheat and flour, are the basics of the northern cooking. Lamb is a favorite meat in northern China because of the Mongol and Muslim influence.
The northern style of cooking is heartier and more filling as it combines relatively traditional seasonings and ingredients.
Recommended northern selections include Peking Duck, Mountain Celery in Mustard Sauce, Shredded Lamb sautéed with Scallions, Baked Beancurd, Steamed Vegetarian Dumplings, Braised Beef, Chafing Dish with Sliced Lamb, Smoked Chicken, Beef with Green Pepper, and Dried Scallops with Chinese White Radish Balls.
>
Sub Links